written by Unknown at Tuesday, October 13, 2009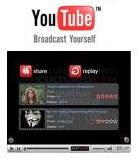 In past we have covered number of tools for YouTube like Youtubefisher, Speedyitunes, YouTube Batch Uploader & Myspeed plugin. Now here is an excellent Greasemonkey script for Youtube.
Many user prefers to view music videos on YouTube how about viewing song lyrics along with YouTube video ? does this sounds cool ? if your answer is yes then check out this YouTube lyrics Greasemonkey script which adds a lyrics box to the YouTube sidebar under the video information box.
It can search in twelve different lyrics sites and it shows also all the results in a drop down.
Youtube Video with Lyrics
Download Youtube Lyrics Greasemonkey script.
Source: BizznTech